New Releases:
WRYTHM (Montag Press, 2022)
Description: Silence descended. WRYTHM waited. The lights went out. WRYTHM watched. For WRYTHM had called forth an inhuman alterity. For WRYTHM had caused it to rise from the earth and consume the sky. We saw its emptiness and we trembled, we raged. We were alone and frightened. We raged in our fear…. So begins humanity's relationship with an artificial intelligence called WRYTHM, a relationship that will lead both to fundamental questions of free will and mutual survival. Weaving together prose narrative, visual poetry and blank verse, WRYTHM is a bold experimental exploration of the meaning of consciousness.
Praise for WRYTHM:
"Andrew Brenza's poetic pugnacity is needed as we near the PERMANENT MIDNIGHT of unclean and automated commercial language, an insatiable will to surveillant power, last news cycle's neoliberal drone war, and the forthcoming power grid attacks that leave us fighting like wild-eyed fiends over a can of dubiously-nutritious Alpo."
–From the Introduction by Mike Sauve
Ordering:
I Wake Up Each Morning Covered in Dust (mOnocle-Lash Anti-Press, 2022)
Description: Andrew Brenza's 'I Wake Up Each Morning Covered in Dust' is an abstract verse memoir of the post-apocalypse. In it, lyric poetry is reduced to vectorized fields of punctuation, words collapse on each other to form corroded textual rivets, and concrete poems melt in meta-commentary to expose the wasteland of the human spirit. Yet, among these aimless ruins of textual matter is a representation of the persistence of human consciousness, the will to endure, and the desire to find beauty among the rubble.
Ordering:
---
Books:
Neon Galax (Unsolicited Press, 2022)
Description: "Glitched collabs from Andrew Brenza and Kristine Snodgrass find a neon outlet in the merging of vispo and digital alteration. This striking book features color-saturated work that enlivens the structural bombast inherent in Snodgrass and Brenza's stark visual poetry. What is glitched is not superceded nor muted, rather transformed in a true collaborative spirit."
-From the Afterward by Jim Leftwich
Ordering:
Compass (Red Fox Press, 2022)
Description: Number 171 in the celebrated C'est Mon Dada series: A collection of small artists' books dedicated to experimental, concrete and visual poetry, or any work combining text and visual arts in the spirit of dada or fluxus. 40 Pages. Concrete Poetry.
Ordering:
Smear (BlazeVOX, 2021)
Description: Smear is a collection of visual poems based on the tweets ex-president Trump and the inaugural addresses of US presidents.
Praise for Smear:
Rachel Blau Duplessis, author of Poetic Realism: Working with strong page-making skills in modes of visual and procedural poetry, Andrew Brenza's serious work comments on the tearing up and uneasy reconfiguring of languages in our historical moment. He creatively transforms inaugural addresses of all U.S. Presidents: imploded, exploded, spun to whirlpool, in a "jagged maw" or "transforming into a broken vapor." At the end, "Acts of Domestic Terror" balls letters up into dark cells, crossing allegory and image, creating posters of anxious commentary in distinctive graphic art.
Kristine Snodgrass: Guided by intuition (looking at the final product, how is this possible?), Andrew Brenza's work implodes and tumbles with gorgeous black holes and visual fields in the tradition of visual poetics. SMEAR deftly combines the disabled rhetoric of a new American fascism (Trump's Twitter) with refrains construed and constructed from past inaugural addresses. Reading this on the day of the inauguration of the new president confirms to me that Brenza has tapped into a collective psyche of exhaustion and confusion, melded into the salience of visual art which Brenza defines as "collapsed", "layered", and "cynical prognostications"—some of the most striking and gorgeous concrete poems I have seen. We ask, what is the type-face without the original semantic construction? How much does Brenza control the eye from entering any meaning? I think this work, unlike much I have seen lately, is poly and para, unfurling and bearing with, not for, the reader.
Orchid Tierney, author of Ocean Plastic: Andrew Brenza is an inventive visual architect of the English language. His collection Smear brings to the fore a literal and figurative smudging of classification and sharply smashes the received assumptions of the naturalness of American political rhetoric. Whether it is in the manipulations of inaugural presidential speeches or the anagrammatic torqueing of Trumpian tweets, these visual poems mobilize the materiality of linguistic resistance and wit. I love the transmutability of his poetic language and the entrancing forms he generates. This collection is a bold delight!
Ordering:
Spool (Unsoilicted Press, 2021)
Description: Andrew Brenza's Spool is a reckoning of our diminished natural world through the register of a disjointed, smeared, and unraveling poetics. Consisting of a series of breathless lyrical and concrete poems, Spool strives to represent both nature's beauty as well as the tragedy of its destruction, a destruction which is, ultimately, the destruction of ourselves. But the book does not descend entirely into hopelessness, for the author's unique approaches to poetic expression suggest an alternative way that humanity might imagine its place in the world, a way that fundamentally incorporates and enacts humanity's vital connection to nature.
Ordering:
Automatic Souls (Timglaset Editions, 2020)
Description:
With two quotes from John Cage ("Nothing more than nothing can be said.") and Samuel Beckett ("I can't go on, I'll go on.") as starting points Andrew Brenza has created a narrative sequence of visual poems that "reveal the hidden tragedies in our typefaces" (derek beaulieu). Composed entirely from the Bauhaus font Automatic Souls is populated by sad, mechanistic creatures, trapped in a "weaponized meat machine" (Michael Sikkema). Below and sometimes embedded in the visuals is text, captions that suggest "an expression of the delusion of meaning."
From Brenza's afterword: "The characters in this world did not ask for their predicaments. They did not ask for the nature of their compositions. Yet they respond to those predicaments given the nature of their compositions. This is how it goes in the half-light of a fading free will."
Automatic Souls is a chilling reminder of the predicament of the soul as we enter the 2020s.
Perfect bound, A5 format, 72 pages, colour cover, black & white inside. Edition limited to 99 copies.
Reviews:
Ordering:
Alphabeticon & Other Poems (Redfoxpress, 2020)
Description:
Visual poetry, A6 format – 44 pages – laser printing. Thread and quarter cloth binding.
Ordering:
Album, in Concrete(Alien Buddha Press, 2019)
Description:
Album, in Concrete is a book of visual poems that explores possible visual representations of melody in specific keys/letters. It is loosely constrained by the number of octaves available on a standard piano keyboard.
Ordering:
Gossamer Lid (Trembling Pillow Press, 2016)
Davy Knittle reviews Gossamer Lid in American Microreviews
Praise for Gossamer Lid:
"Define the constellations. Fly to them on wings that, though so-named, are much more solid than gossamer. Add commentary to & on—sometimes directly relevant, sometimes provoked or stimulated by, sometimes tablet wor(l)dplay, sometimes the ranting of a wordsmith howling at the moons that there weren't enough words in the language & he's sometimes had to make more up. Gossamer Lid is both a gnostic gospel for the 21st century & an alchemist or chiromancer's journal. The entire is a book of poetry that is wide-ranging, brilliantly integrated, oft-times demanding in the reading of it. But well worth that reading. & you'll never see the night sky in the same way again." — Mark Young
"The poet Paul Celan changed his German when it sought to eradicate him. In parallel, Andrew Brenza constructs tongue-twisting portmanteaus and neologisms because English refuses to register the environmental eradication (the 'horrorscope') to come. Gossamer Lid asks us to approach the earth from a new angle. Concrete poetry meets the poetics of hard science in this necessary constellation of 'striploss sunbliss.'" — Jena Osman
"Andrew Brenza's gift splays gossamer and gusto via aptly architected and sonically potent language that recasts its role into a fundament that morphs beyond what was thought possible. I am stunned by the exquisite recreation of what syllables can do together, what visual dimensions resonate far beyond page-bound depictions of their own miraculous being. This is poetry that confronts the curious reality of how small our species is with the largest picture that we stretch to know. Concurrently, we discover an immensely robust life force in Brenza's mind, defying all suspicion of our collective insignificance! Do not miss this book. It is extraordinary." — Sheila E. Murphy
Ordering:
---
Chapbooks:
Weaving (Paper View, 2022)
A Little Poem About Death (Paper View, 2022)
Geometric Mantra (above/ground press, 2021)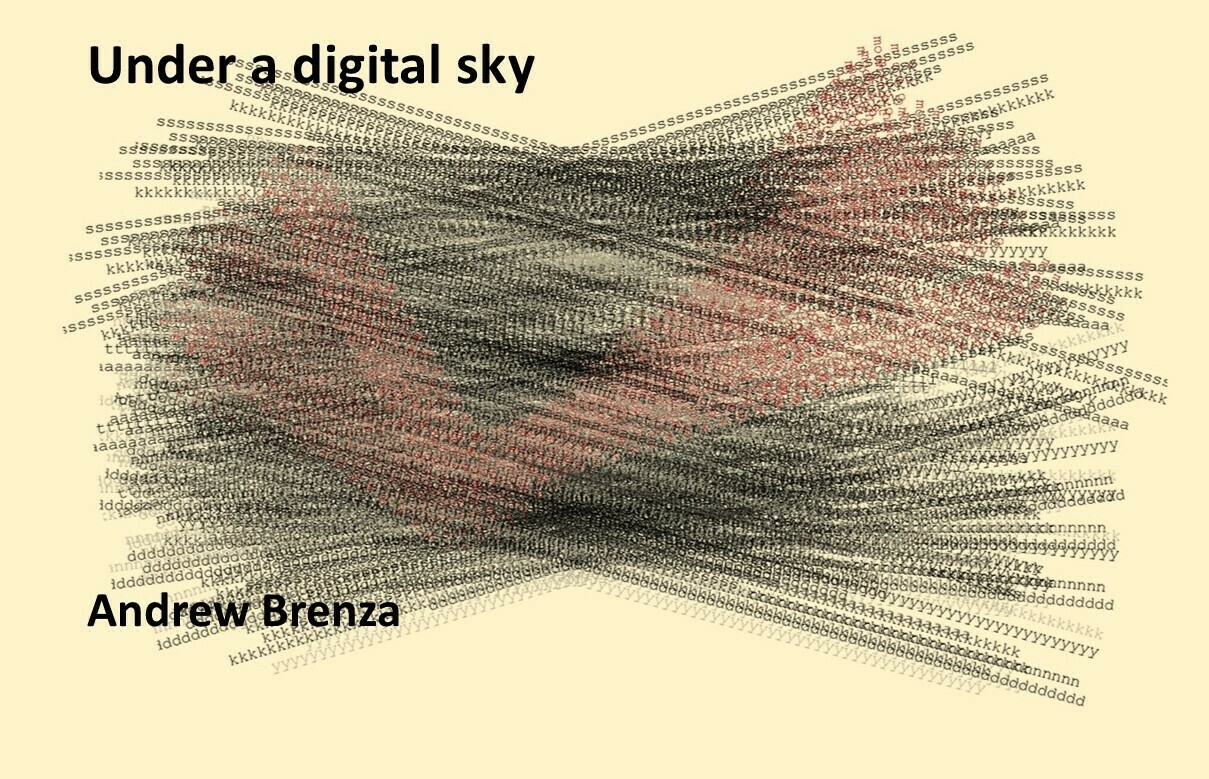 Under a Digital Sky (Trainwreck Press, 2020)
Poems in C (Viktlösheten Press, 2019)
A Triptych of Andrews (The Blasted Tree, 2019)
Bitter Almonds & Mown Grass (Shirt Pocket Press, 2018)
waterlight (Simulacrum Press, 2018)
an excerpt from Alphabeticon (No Press, 2018)
8 Constellations (Beard of Bees, 2017)
And Then (Grey Book Press, 2016)
21 Skies (Shirt Pocket Press, 2015)
---
Selected Journals and Magazines:
"How We Gather Ghost-like the Real Wake of Our Intentions, Nos. 52, 55, 66, 97 & 101" published in Indianapolis Review, Issue 24, Spring 2023.
"Three Visual Poems" published in THRUSH Journal, March 2023
"Two Visual Poems" published in Café Review 2021 Summer Issue
"sky" poems published in Otoliths Issue 49
"…and sky and sky" published in ToCall #12
"acts of domestic terror" published in Utsanga
"from The Book of Andrews" published in Perspektive
"mirror & mirage" published in Brave New World Magazine, Issue 18
"mirage" published in Sonic Boom, Issue 17
"e(ye)scapes" published in BlazeVOX20
"from The Book of Andrews" published in talking about strawberries all of the time
"Mirror, Image & Mirage" published in Unlikely Stories
"5 Visual Poems" published in The Abandoned Playground
"poems in g" published in Dream Pop Magazine
"poems in f" published in X-Peri
"Four Works" published in Utsanga
"I attack you for using the techniques which I am now using to attack you" published in Diagram 19.5
"Five Works" published in Five:2:One
"starlight over the graves" published in Otoliths Issue 48
"This" and "Heart Song" published in Deluge No. 9
"Poem Titled II" published in Moss Trill
"catbird/everything you see," "horizon/no horizon," and "a part/apart" published in E·ratio, # 23
"bay/scene" and "road/trip" published in Pith, Issue 5
"Canis Major," "Taurus," "Corona Borealis" and "Aries" published in Word For/Word, vol. 29
"Spool" published in Otoliths, Issue 41
"Rock Gardens" published in Infinity's Kitchen, # 8
"Ambient in its Articulation" published in Yellow Field
"Hercules" published in Fact-Simile 11
"Now," "Song and Dance," and "The Certainty of Things" published in Beloit Poetry Journal, Vol. 66, No. 2
"Hydrus" and "Sextans in Norma" published in Salt Hill, Issue 35
"Pyxis" published in Sink Review, Issue 13
"If Flowers" published in Indefinite Space
"The Detail" and "Gardens of Evening" published in The Cortland Review, Issue 63
"Columbia and Caelum," "Pisces," "Vela," and "Lacerta" published in Otoliths, Issue 34
"Gossamer 24" published in Mad Hat
"The Detail (14)" and "The Detail (15)" published in Otoliths, Issue 32
"5 Concrete Poems" published in Word For/Word, Vol. 23